Board
GOVERNING STRUCTURE
The Arkansas Bar Foundation is governed by an eighteen (18) member Board of Directors. The Board is composed of Fellows elected by the Foundation Membership from each of three state bar districts plus the Arkansas Bar Association President, the Immediate Past President of the Foundation, and the Chair of the Trust Committee, who serve as ex-officio members. The Officers of the Foundation are the President, the Vice President and the Secretary-Treasurer, who serve for a one (1) year term. Members of the Board are elected at the annual Foundation Membership meeting in June. The Secretary-Treasurer position is elected by the Board at the annual Foundation Board meeting.
There is also a Trust Committee which is composed of experienced lawyers who serve six-year terms. The Trust Committee distributes the income annually to worthy projects. A separate operating account pays the cost of running the Foundation.
PLEASE MEET OUR 2023-24 OFFICERS
OF THE ARKANSAS BAR FOUNDATION!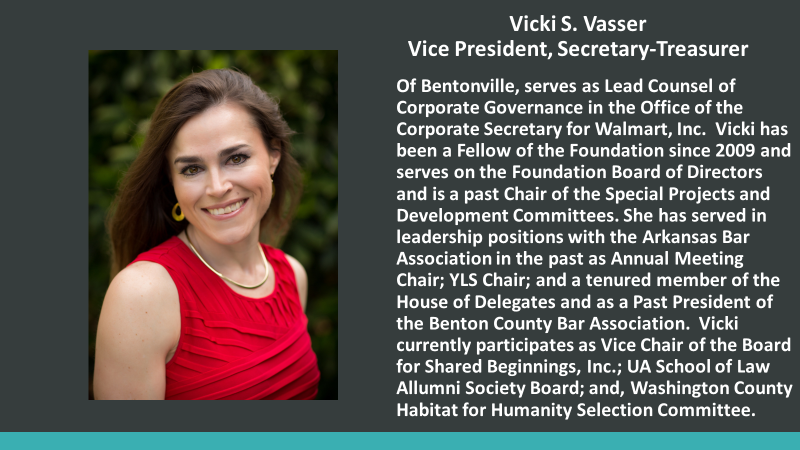 ARKANSAS BAR FOUNDATION
OFFICERS AND BOARD OF DIRECTORS
2023-2024
PRESIDENT: Michael H. Crawford
VICE PRESIDENT and SECRETARY-TREASURER: Vicki S. Vasser
South & East Bar District
2024 Michael H. Crawford
2024 Judge Timothy F. Watson, Sr.
2025 Mark Mayfield
2025 Judge Chalk S. Mitchell
2026 Robert S. Jones
Northwest Bar District
2024 J. Barrett Deacon, Jr.
2025 Judge Shannon L. Blatt
2025 Gwendolyn L. Rucker
2026 Russell Atchley
2026 Michael Daily
Central Bar District
2024 Missy McJunkins Duke
2024 Jamie Huffman Jones
2025 Julie DeWoody Greathouse
2026 E.B. (Chip) Chiles IV
2026 David A. Grace
Ex-Officio
Edward Oglesby, Foundation Immediate Past President
Foundation Trust Committee Chair
Margaret Dobson, Arkansas Bar Association President
Arkansas Bar Foundation
2224 Cottondale Lane
Little Rock, Arkansas 72202